#41 – SDG Action Workshop (2022.3.5)
— SDGs Satoyama & Forest Conservation Activities (Bamboo Cutting & Bamboo Fence Making)—

As a part of the global SDGs initiative, Peace & Nature is working with people of various nationalities, companies, students, and local communities to conserve satoyama and forests by reclaiming fallow land and maintaining bamboo forests. On March 5, we will hold a workshop on bamboo fence building in OZO-cho, Kita-ku, Kobe City. The number of bamboos has been increasing in OZO-cho, and there are places where the beautiful scenery is obscured and trees cannot grow because of the dim light. This time, we will cut down the increasing amount of bamboo and make bamboo fences (bamboo guardrails) using the bamboo. We would like to make the road safer for traffic by installing bamboo fences at the dangerous places at the edge of the road. The weather is still cold, but we hope you will enjoy the experience while taking a break from your daily life and enjoying the scenery of the countryside. We look forward to your participation.
[SDGs No.4,11,12,15,17]
Date and Time: Saturday, March 5, 2022, 10:00 – 15:00 
(In case of heavy rain, we will decide whether to hold or cancel the event at 7:00am on the day.)
Place: Peace & Nature OZO Base (47 Hinishihara, OZO-cho, Kita-ku, Kobe City)
(Parking area: Kishimoto Kichiji Shoten Komotaru Factory)
Number of participants: 30 (first-come-first-served basis) (Target: Individuals, families, companies, universities) *Please note that this event will be conducted under corona infection prevention measures.  
Participation fee: Corporate members: 1,500 yen (500 yen for elementary school students and younger) If you are a company (or group), please register as a corporate member. Please contact us for details.
Individual members: 1,500 yen (500 yen for elementary school students and younger)
Non members: 3,000 yen (Elementary school students and younger: 1,000 yen)
Schedule: 
10:00 Opening, walk to activity site 13:00 Bamboo fence building
10:30 Cut down bamboo, prepare bamboo for bamboo fence
12:00 Lunch
14:30 Clean up
15:00 Closing
(The schedule may change depending on the situation of the day.)
What to wear during activities: 
Long-sleeved clothes, long pants, gloves, non-slip shoes that can get dirty, mask, etc. 
What to bring:             
Drink, lunch box, hat, towel, gloves, change of clothes (Please note that there will be no convenience store in this area.)
Since the event will be held during the Corona pandemic, we ask for your cooperation in disinfecting the site and filling out the health check sheet. (Please note that we may ask you to refrain from participating if your body temperature is above 37.5℃.)
Meeting point and parking lot:
Meeting place: Peace & Nature OZO Base
Parking lot: Kichiji Kishimoto Shoten Komotaru Factory (Distribution Center)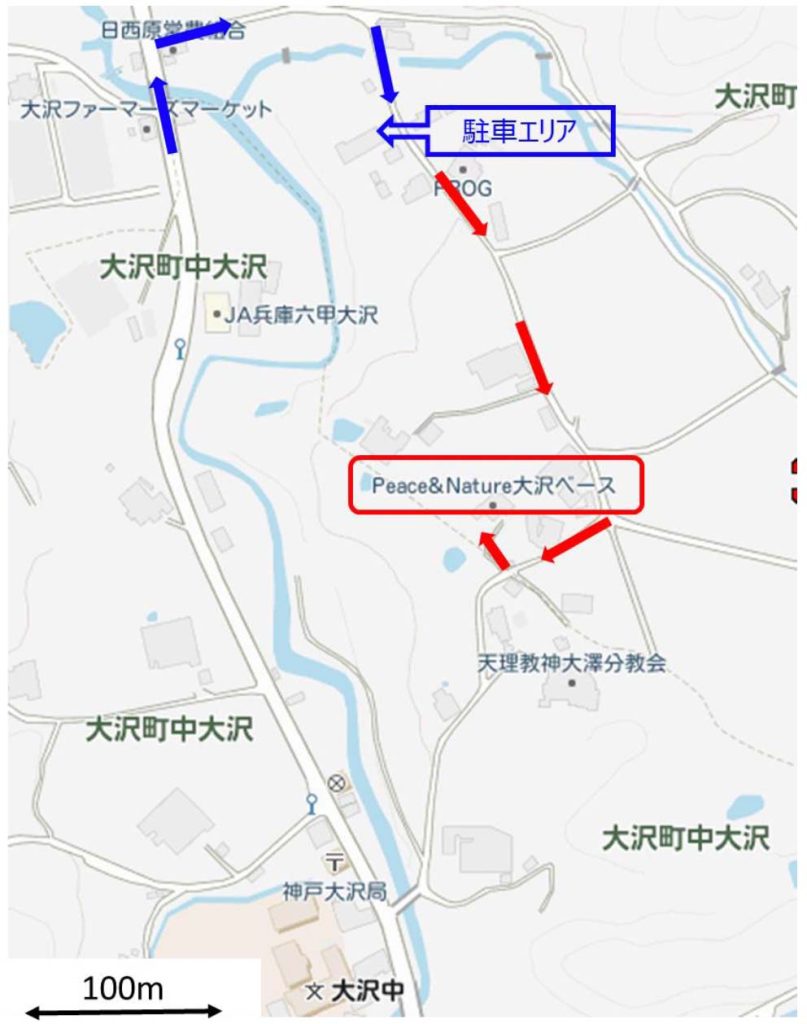 This activity is subsidized by the Coop Kobe Environmental Trust Fund.
NPO Hojin Peace & Nature Email: info@peace-and-nature.com
Cooperation with Mr. Shibayama, Mr. Nishi, OZO Town,
Kichiji Kishimoto Shoten Co.
※ 本活動は「公益信託コープこうべ環境基金」からの助成を受けています。