SDGs Online Roundtable (16th) Thinking about Peace
How should we think and act in the midst of climate change, new coronavirus infections, and armed aggression? We hope that this is a world in which adults show children that such actions will not be tolerated.
On May 26, we will invite Mr. Kuzushita and Ms. Nakamura, who have been active as atomic bomb storytellers, to talk about the absurdity of the atomic bombing through their own experiences. This is a rare opportunity. The issue of nuclear weapons is a current issue. We look forward to your participation.

Date and Time: Thursday, May 26, 2022, 19:00 – 20:30
(Online connection from 18:50, extension up to 21:00)
Method of the event: Zoom
https://us02web.zoom.us/j/89959414625?pwd=Wm03TEZZWWp5bkY0d01XN1hhVWxBQT09
Meeting ID: 899 5941 4625
Passcode: 344318
Admission: Free
Title: "Testimony of Hibakusha" by Tomokazu Kuzushita (President of Tanyu Atomic Bomb Victims' Association)
"Telling Live Lessons from the Atomic-bomb Experience" by Ms. Michiko Nakamura
(Nisei member of Japan Confederation of A- and H-Bomb Sufferers Organizations, Chairperson of the Hyogo Prefecture Nisei A-bomb Survivors Association)
Please register online at www.peace-and-nature.com  
Deadline: Wednesday, May 25, 2022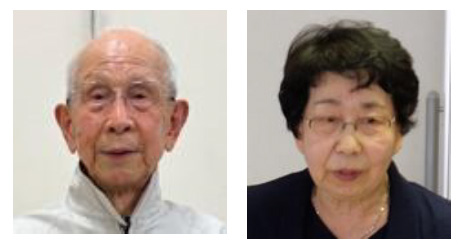 Summary of Mr. Tomokazu Kuzushita's Story
At the age of 19, Tomokazu Kuzushita was exposed to the atomic bombing in the Hiroshima Technical College building. After the bombing, the students were asked to take part in relief work on Ninoshima Island (an island in Hiroshima Bay), where they assisted in the treatment of people who had been brought by boat from Hiroshima City. As a result, he suffered from A-bomb disease. The story he will share is about his rescue activities.
Summary of Ms. Michiko Nakamura's Story
My father was exposed to the atomic bomb at the age of 26 in a Japanese National Railways hospital located 1.7 km from the hypocenter. I was diagnosed with chronic myelogenous leukemia in 2009 and underwent surgery for thyroid cancer in 2014. The threat of the Atomic-bomb continues to this day. Nuclear weapons are a current issue, as evidenced by Russia's invasion of Ukraine.
The Hyogo Association of Nisei A-bomb Survivors
The Hyogo Prefecture Nisei A-bomb Survivors Association is an association of second and third-generation A-bomb survivors. We aim to promote exchange among second and third generation A-bomb survivors and to pass on the A-bomb experience to future generations. We will carry on the wish of the Atomic-bomb survivors, "Never create another Hibakusha," for the abolition of nuclear weapons.
https://www.kobe-np.co.jp/news/kobe/202204/0015249756.shtml
Piano and Voices to Communicate the Atomic Bombing (May 28. 15:00-16:30) Higashinada Ward Cultural Center (free of charge) [Tel: 090-7759-5964 (Nakamura)]
NPO法人 Peace & Nature  Email:info@peace-and-nature.com
Joint hosting by Hyogo Prefecture Nisei Association of A-bomb Survivors