SDGs Action Workshop
Effective use of bamboo (cutting bamboo, making bamboo charcoal, making compost)
If you take a look at the scenery when you ride the train or go out to the suburbs, it is not uncommon to see bamboo forests. Nowadays, many forests are being replaced by bamboo forests. Bamboo is also an important plant, but too much of it is not good. The main reasons for this are the loss of biodiversity and the tendency for landslides to occur. P&N is working to cut down these bamboos and return them to their original forests and fields. On January 15, we will hold an SDGs Action Workshop where we will cut down bamboo to make bamboo charcoal and compost using bamboo powder. We hope that you will get away from your daily life and enjoy the scenery of the countryside while experiencing the SDGs initiatives through bamboo cutting and bamboo charcoal making. We look forward to your participation.

Date and Time] Saturday, January 15, 2022, 10:00 – 15:00 
(In case of heavy rain, we will decide whether to hold or cancel the event at 7:00 a.m. on the day of the event.)
Place: Peace & Nature OZO Base (47 Hisaihara OZO-cho, Kita-ku, Kobe City)
(Parking area: Kishimoto Kichiiji Shoten Komotaru Factory)
(Parking area: Komotaru Plant, Kishimoto Kishiji Shoten Co., Ltd.) 【Guidance】 Masaaki Sato [Public Corporation] Sanda Silver Human Resources Center Bamboo and Bio Resources Utilization Promotion Group
[Fertilization of kitchen waste using bamboo powder (registered as a special fertilizer)
Making bamboo charcoal and using it for crops and gardening.
Number of participants: 30 (on a first-come, first-served basis) (Target: individuals and families)
Please note that the workshop will be conducted under corona infection prevention measures.  
Participation fee] Members: 1,500 yen (500 yen for elementary school students and younger)
Members: 1,500 yen (500 yen for elementary school students and younger) General: 3,000 yen (1,000 yen for elementary school students and younger)
Participants will be given materials and bamboo charcoal to take home.
Schedule 
9:50 Registration (OZO Base)
10:00 Walk to activity site
10:20 Opening
10:40 Hands-on activities (bamboo cutting, bamboo charcoal making)
12:00 Lunch, Lecture by Mr. Sato
13:00 Hands-on activity (making compost with bamboo powder)
15:00 Introduction of P&N activities, Closing
Attire for the activity 
Long-sleeved clothes, long pants, gloves, shoes that can get dirty, mask, etc. 
(We will lend protective glasses and helmets during the bamboo cutting activity, but the number of helmets is limited.
If you have your own helmet, please bring it with you.)
What to bring
Drink, lunch box, hat, towel, gloves, change of clothes, leisure sheet
(Please note that there will be no convenience stores in this area.)
(Please note that there will be no convenience store in this area.) Since the event will be held at the Corona Peril, we ask for your cooperation in disinfecting and filling out the health check sheet at the venue.
(Please note that we may ask you to refrain from participating if your body temperature is above 37.5℃.)
NPO Peace & Nature  
Email: info@peace-and-nature.com
Meeting place and parking lot
Meeting place: Peace & Nature OZO Base
Meeting point: Peace & Nature OZO Base ・Parking lot: Kichiji Kishimoto Shoten Komotaru Factory (Distribution Center)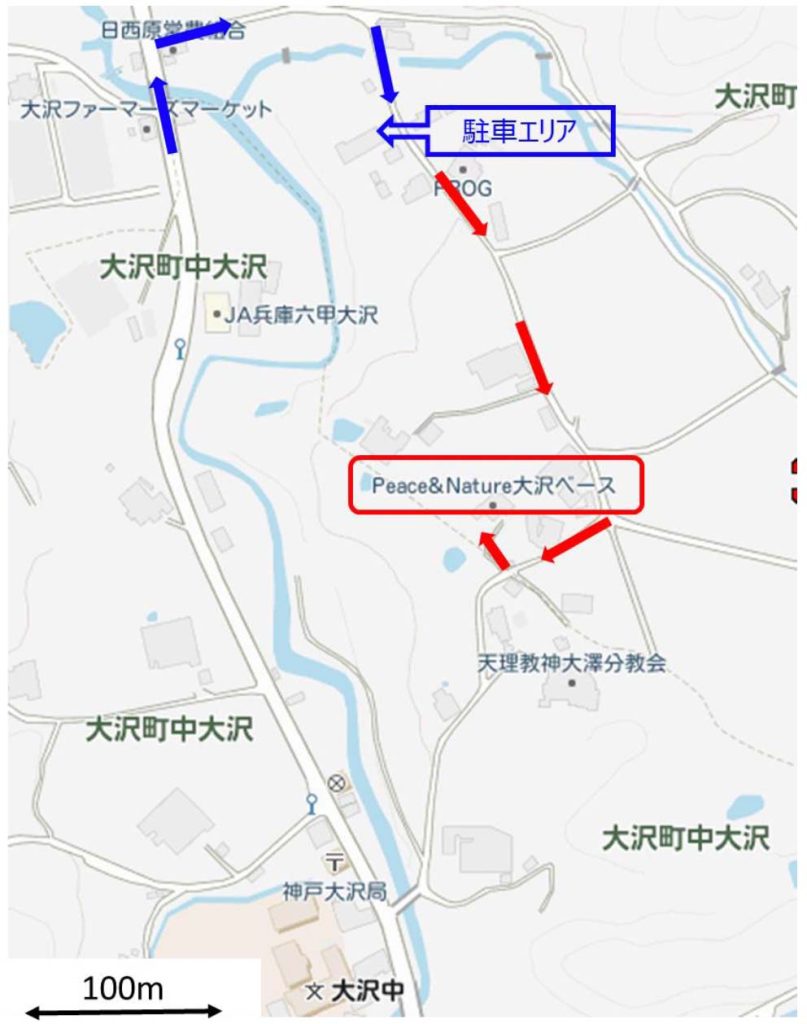 Registration Form